The oCD (which stands for Obsessive Compulsive Disorder) Texture Pack for Minecraft is a very simplistic texture pack in the same vein as that tries to make the game look a lot more symmetrical and "boxy".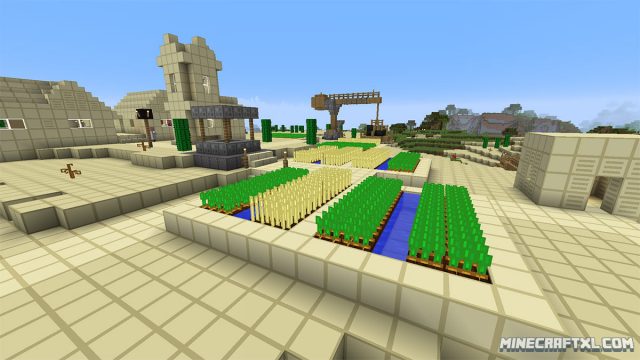 Achieving this symmetry is done by removing or trying to restrict certain things, such as noise, weird angles, harsh colors, and make spacing as even as possible! This is the perfect pack for people who just want things to look tight, right, and symmetrical, without having to obsess over them. Even crops and other plants are made to be the exact same length. Picture this pack as being made by a robot who got specific instructions to make everything look in a certain way with no deviations.
Symmetry is the main focus of the pack, and this seeps into every aspect and texture found within, leaves are idenctical, wood is identical, even natural which should have an organic (i.e. chaotic) quality to them now looks like it came out of a factory.
All of this may sound like it is a bad thing, but the pack does in fact look pretty awesome, and it is great to use, very pleasing and very easy on the eyes. It also helps when building things, as it is a lot easier to gauge where things are, should be, and how they look next to each other.
The oCD Texture Pack is a simplistic and stylized 16×16 pack, so there is no need for other external programs such as MCPatcher to get the full use out of it, it should work fine with the default Minecraft, provided you have installed it correctly. However, MCPatcher rarely makes things worse or uglier, so there really is no need to not use it, unless you're running some mods or other things which are incompatible with it.
The UI has even been made symmetrical and hard-angled, and you will be hard pressed to find an angle that doesn't fit 90 degrees in this pack. It is perfect if you suffer from OCD, or if you just want things to look clean, right, and symmetrical! A great and popular pack, give it a try and I'm sure you won't regret it!
Robin Thicke would hate this pack, as the oCD Texture Pack is not about the Blurred Lines, but the straight lines…
Here is a comparison between the oCD Texture Pack and vanilla Minecraft:
How to install the oCD Texture Pack for Minecraft:
Download the Resource Pack.
Optional: install MCPatcher.
Start Minecraft.
Press Esc and go to options.
Click on "Resource Packs".
Click on "Open resource pack folder".
That's it! The oCD Texture Pack should now be installed, so enjoy and have fun!
Here is a short trailer for the texture pack, made by the creator himself, diSCo:
Related Articles