MCPatcher HD Fix for Minecraft is a great mod for Minecraft. It allows you to switch between mods and texture packs and comes with a lot of other features. It also lets you install new mods very easy via the interface.
Features includes:
More transparency options for glass textures.
Add your own textures to the day and night skies. Many options for fading and blending.
Custom item textures.
Connected Textures mod.
Built-in utility for converting texture packs to resource packs 1.6.
Balthichou's RandomMobs mod.
Extended animation, mipmapping, and font support.
Ability to load other mods – for example ModLoader.
Ability to save and load mod profiles and switch between them easily. You can also organize your mods by the Minecraft version they go with.
MrMessiah's BetterGrass mod.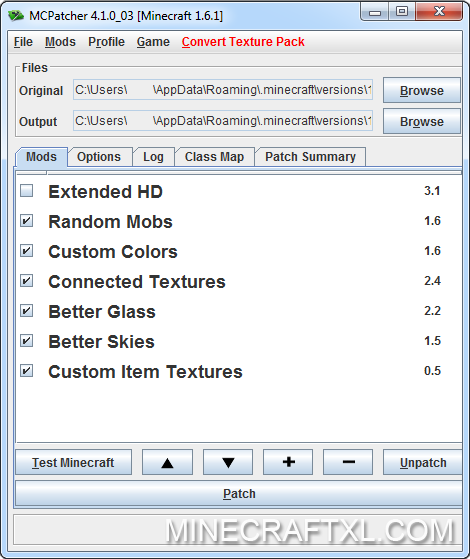 How to install MCPatcher
Downlaod the MCPatcher for your OS.
Unzip the files and open the MCPatcher (note: you should start with a fresh version of Minecraft).
Click "Patch".
To install texture packs (after you completed the installation above):
Just install the resource pack as you would normally do:

Download the texture pack you want to use.
Start Minecraft.
Press Esc and to to options.
Click on "Resource Packs".
Click on "Open resource pack folder".
Put the zip file you downloaded in to the resource pack folder.
The texture pack should now appear in Minecraft, choose the texture pack and click "Done".
That´s it – enjoy!
To install mods (after you completed the installation above):
Click the + sign.
Choose the mod (you have to put the downloaded .zip file in the mods folder)
Click patch
If you have any problems, please comment and we will try to help.
MCPatcher HD Fix support connected textures which some resource packs use.
Video guide
Is you are not on Windows, then the MCPatcher is an executeable .jar file. If it tries to unpack when you double click it, this will do the trick:
Right click
Go to properties
Click run
Select java and apply
Double click the patcher (.jar file) again
Related Articles