Minecraft 1.9 the combat update is live, and with a new version comes a bunch of new items and blocks. We have collected all the new crafting recipes for you in this guide.
We have updated the crafting guide to include the new recipes.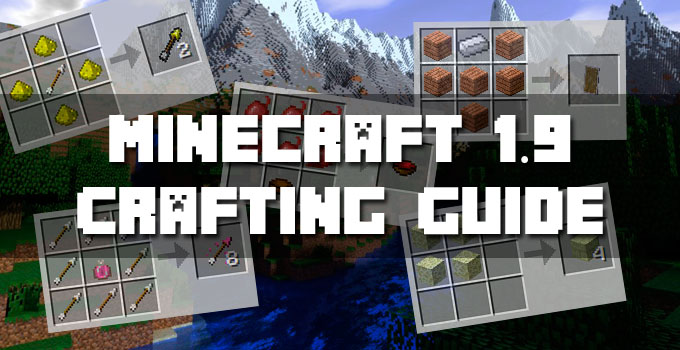 New craftable items and blocks in 1.9:
Shields
Purpur blocks
End Rod
End Crystal
End Stone Bricks
Beetroot and beetroot soup
Spectral arrows
Tipped arrows
Minecraft 1.9 Crafting Recipes
Crafting Shields
To craft a shield in Minecraft you will need: Any Wood Planks + Iron Ingot.
Recipe: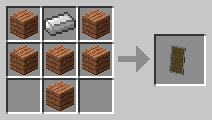 Damaged shield
The durability of two shields is added together, plus an extra 5% durability. Please note that the repaired shield has no pattern.
Recipe: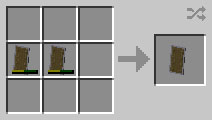 Applying patterns to shields
To apply a banner to a shield, just place the shield and any banner in the crafting grid.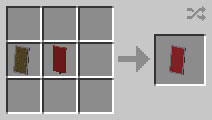 This will apply the banner pattern to the shield. The banner is consumed in the process. The shield must not have any pattern to begin with. Applying a banner will repair the shield to full durability.
Enchanting shields
Shields can't be enchanted using an enchantment table, however an anvil can apply both Mending and Unbreaking to the shield.
Crafting Purpur Block
Purpur blocks and purpur pillars are decorative blocks, that are naturally generated in end city dungeons found in the End. Purpur blocks and pillars can be mined using any pickaxe. If mined without a pickaxe, it will not drop anything.
Purpur block
Ingredients: Popped Chrous Fruit
Recipe: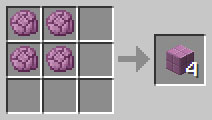 Popped Chorus Fruits can be obtained by smelting chorus fruit.
Purpur pillar
Ingredients: Purpur slab
Recipe: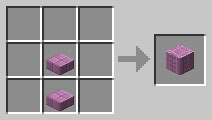 Purpur stairs
Ingredients: Pupur Blocks
Recipe: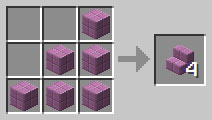 Purpur slab
Ingredients: Purpur Blocks
Recipe: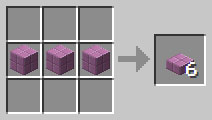 Crafting End Rod
An End Rod is a decorative light source, that emits white particles. It can be obtained by any tool or block.
Will be destroyed if run over by flowing water, just like torches.
Ingredients: Blaze Rod + Popped Chorus Fruit.
Recipe: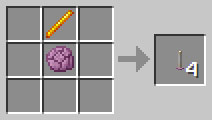 Crafting End Crystal
The primary purpose is to recharge the health of the ender dragon. As items end crystals may be placed on bedrock and obsidian, if the two blocks above the bedrock or obsidian block are air or replaceable blocks and no other entities intersect the area. If a crystal is placed on each of the four sides of the end exit portal, the crystals will respawn the healing crystals and the dragon before exploding.
Ingredients: Glass + Eye of Ender + Ghast Tear
Recipe: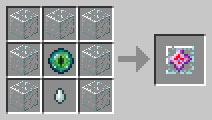 Crafting End Stone Bricks
Ingredients: End Stone
Recipe: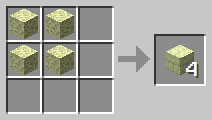 Crafting Beetroot Soup
Beetroots can be used to breed pigs by tapping and holding one with a beetroot in your hand. Pigs will also follow the player, if holding a beetroot.
Beetroots can be eaten to restore 1 hunger and 1.2 hunger saturation.
Bootroot Soup
Beetroot soup can be eaten to restore 6 hunger and 7.2 hunger saturation.
Ingredients: Bowl + Beetroot.
Recipe: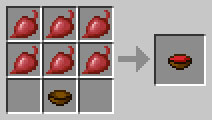 Rose Red
Ingredients: Beetroot.
Recipe: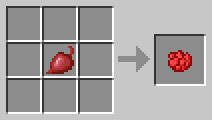 Crafting Spectral Arrows
Spectral arrows imbues the glowing effect for 10 seconds. The glowing effect creates an outline of the target, which is visible through blocks and colored based on the targets team (default is white). If a bow is enchanted with Infinity, spectral arrows will still be consumed.
Spectral Arrow
Ingredients: Glowstone Dust + Arrow.
Recipe: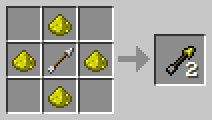 Crafting Tipped Arrows
Tipped arrows imbue a status effect when hitting a mob or player. The duration of the effect is 1/8 that of the corresponding potion, and is not affected by the power of the arrow. The effect is the same as the regular power effect for the potion. If a bow is enchanted with Infinity, tipped arrows will still be consumed.
Types of tipped arrows:
Arrow of Fire Resistance
Arrow of Harming
Arrow of Healing
Arrow of Invisibility
Arrow of Leaping
Arrow of Luck
Arrow of Night Vision
Arrow of Poison
Arrow of Regeneration
Arrow of Slowness
Arrow of Strength
Arrow of Swiftness
Arrow of Water Breathing
Arrow of Weakness
Tipped Arrow
Ingredients: Any Lingering Potion + Arrow.
Recipe: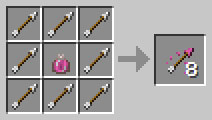 This is all the new crafting recipes in the new version of Minecraft. We have not covered all new items or blocks, just the crafting recipes.
Related Articles