The Assassins Creep Parkour Map is a parkour map that draws heavy inspiration from the well known and popular Assassins Creed games. The map looks like a old Italian city, and the objective is to find the 9 hidden pieces of wool that are scattered around the map. Once you have found these 9 pieces of wool, you will be able to enter the final dungeon.
There are also other hidden secrets though, such as wanted posters and feathers, and cool things like exploding towers.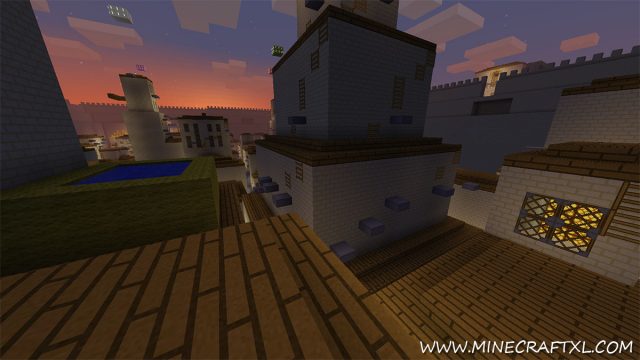 The map is supposed to be played with the game set to Peaceful, so the mobs don't interfere with your progress through the map.
The rules are as follows (follow at your own discretion, but it is more fun if you do):
Play the map on peaceful difficulty.
Do not break any blocks.
Do not place any blocks.

Do not use any

 mods or cheats on the map (you are however allowed to use singleplayer commands to change time to day).
Use the provided texture pack for the best experience, although it can be played with default Minecraft.
It is a very well crafted map, and the parkour is also fun, clever and well-made, it presents a good challenge at certain points.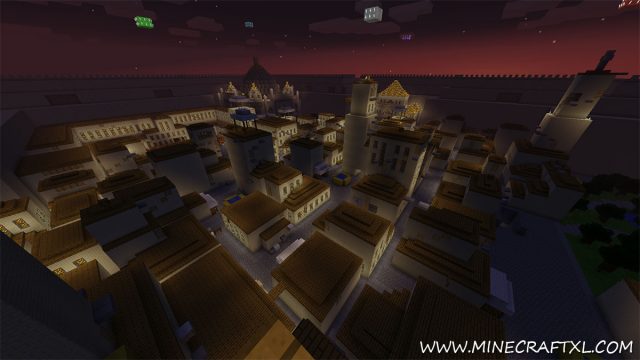 The map really looks like something out of Assassins Creed, had it been made many years ago, and there are many hints and nods to the games, such as the Assassins and Templars logos scattered around.
Along with the download link for the map there is also a link for the Assassins Creed Brotherhood Resource Pack (32×32), which goes very well with the map. This is not the resource pack originally meant to be used with the pack, but the original one, Assassini-Costruttori, has been discontinued and does not seem to work with any 1.6.x Minecraft version. This is not an issue however, as the Assassin's Creed Brotherhood pack seems to work very well anyway.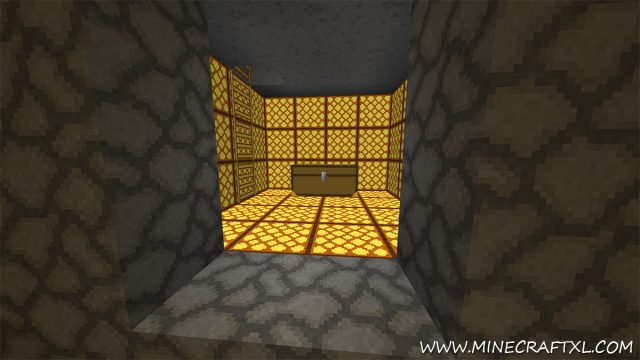 How to install the Assassins Creep Parkour Map:
Download the map.
Go to your %appdata%/.minecraft folder.
Open the "saves" folder.
Unzip the map you downloaded and put it in the saves folder.
Thats it – enjoy Assassins Creep and try to finish the map the fastest!
How to install the Assassins Creed Brotherhood Resource Pack:
Download the Resource Pack.
Start Minecraft.
Press Esc and go to options.
Click on "Resource Packs".
Click on "Open resource pack folder".
Put the .zip file that you downloaded into the resource pack folder.
The resource pack should now appear in Minecraft, now choose the resource pack and click "Done".
Enjoy your new Assassins Creed-themed Minecraft!
Download Assassins Creep Parkour Map and Assassins Creed Brotherhood Resource Pack for Minecraft:
Related Articles