DurzoCraft is made due to a "a texture a day"-challenge. The creator set a goal for himself to complete, and that was that he must complete 1 texture a day, until he had a complete pack. This is the cool result of that! It took 418 days in total.
The style of that pack is very reminiscent of the default pack. The creator generally liked the look of default Minecraft, but there were certain areas where he was certain he could make some improvements. First of these is the resolution, which has been doubled from 16×16 to 32×32. This makes the game look smoother and generally makes the game more pleasing on to the eye, less grating to look at.
If you're a fan of "faithful" packs, you're sure to like this one as well, as it is very much in the vein of those packs, generally changing minor details, and focuses on making the game look more detailed, in higher resolution, and on not deviating from the original style of the game.
The mobs generally look the same with minor, if any, alterations, but the weapons, and especially the armor has gotten some minor detail upgrade that really makes them look better than their default counterparts. Some armor has chain-mail under the plate, which looks really cool!
It looks very similar to the Faithful Resource Pack, due to the creator really loving that pack, and basing his off of that, only changing the things he wasn't too fond of. But it is not a copy! That is what the creator says anyway, although they are very alike. It's a toss up on which pack is better, try them both out and chose the one you like best!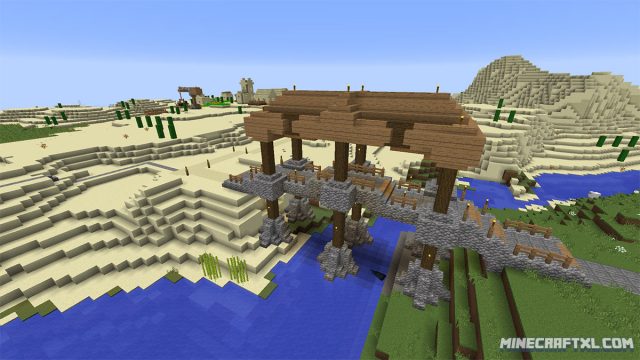 All in all, it is a good pack for fans of the default style, it looks good, runs well, and it has an interesting story behind its creation! Maybe that's a new way to get things done, promise yourself you'll make at least one of it every day!
Here is a comparison between DurzoCraft and vanilla Minecraft:
How to install the Crafteryada Resource Pack for Minecraft:
Download the Resource Pack.
Optional: Install MCPatcher.
Start Minecraft.
Press Esc and go to options.
Click on "Resource Packs".
Click on "Open resource pack folder".
Put the .zip file that you downloaded into the resource pack folder.
The resource pack should now appear in Minecraft, now choose the resource pack and click "Done".
All done! The pack should now be installed correctly, so enjoy it and have fun!
Related Articles