This Minecraft horse seed features a big grassland with hordes of horses and donkeys. Actually there are several grasslands where you can find horses and donkeys. When you spawn, just turn to your right and walk for about 30 seconds and you will be there. Otherwise than the horses, there is really not much to this seed. The land is pretty flat where you start. Not far away, the terrain changes from normal to desert and then to snow (I know, weird transition).
This seed was generated in version 1.6.2 but it might work in later versions.
Seed ID
-6488415181944709667
Word Type
Default
Spawn Point
X: 146,5 Y: 67 Z: 217,5
Locations
Horses
X: 116 Y: 66 Z: 348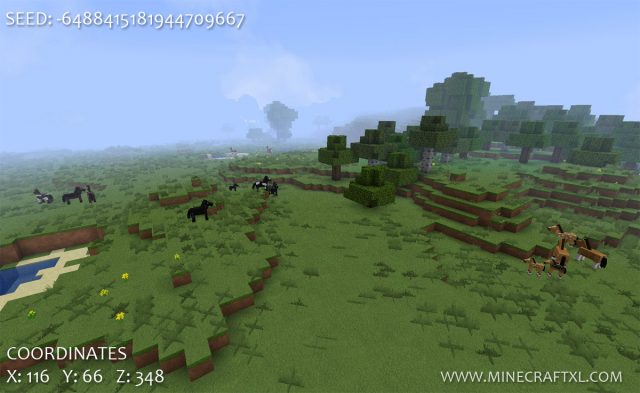 I would like to have added some more locations, but I just could't find any interesting. If you find a good location, please leave a comment and I will add it with a screenshot.
Seeds is a way to generate the same map everytime. If you don't use seeds, Minecraft will automatically generate a seed for your game.
If you don't now how to use a seed, check out our guide/tutorial on how to use seeds and what they are.
Video of the seed
Related Articles