Obsidian is another hacked client for Minecraft. It works for the latest version of Minecraft 1.6.2 and is packed with features. Everything works online on servers. Some of the features includes PvP, aimbot, auto soup and fast bow, making it very good for PvP and Hunger games. Obsidian has a nice GUI, which makes it very easy to use.
How to use
Just press the up arrow on your keyboard to bring up the menu. Press down arrow to change settings.
Remember what we always say, using hacks like this is at your own risk.
Feature list
Click to see all features
Bot features

Auto Walk
Auto Miner
Shift
Fisher
Auto PvP

Player features

Fly
No Fall
Sneak
Kill Aura – in chat: "-Friend NAMEHERE" to add a exception, and "-Enemy NAMEHERE" to remove an exception. Reset when MC is restarted.
IronMan – enables you to walk on water
Inv Drop – drops all uper inventory space
SSP God – Invulnrability in Singleplayer
Wall Climb
Sprint
Flying Freecam
Walking Freecam
Mass Kill (Insane kill aura, just for fun.)
Step
Dolphin – Jumping on water
SMP God – Invulnrability after you're hit once. Although, then you can't move
No Web
Bypass toggle

Render features

Player ESP
Chest ESP
Opacity Xray (X-ray)
No Opacity Xray (classic Xray)
Fullbright
No Render
Wallhack (players only)
Base Finder (classic Xray, but shows blocks commonly found in player bases)

Other features

Small / Large Nuker (toggle-able in down arrow configuration)
Selection nuker.
Timer 1.5x – 3.0x (toggle-able in down arrow configuration)
Fastbreak
Packer Fastbreak (instant)
Fastplace
Abort Misson (auto Dissconects at 1.5 hearts or less)
Auto-Tool
No-Knockback
NoHurt FOV (no damage shaking)
No Swing
Build (navigate to build settings in down arrow's gui)
As you can see, there is lots of nice features to chose from.
Time for some screenshots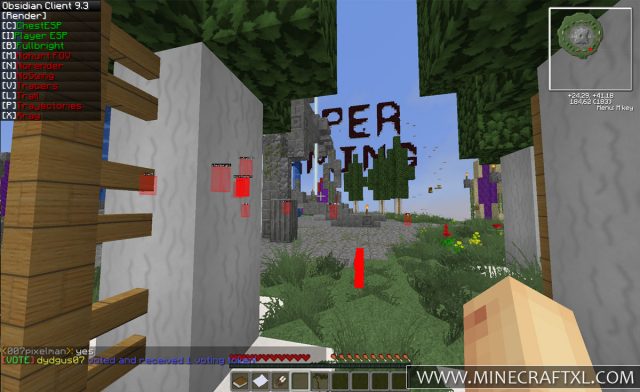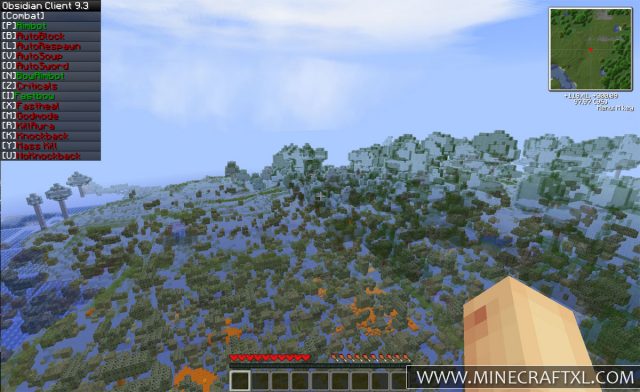 How to install Obsidian client for Minecraft:
Download the file and extract it (you can use 7-Zip or WinRar).
Open your Minecraft folder.
Go to your versions folder.
Copy the Obsidian folder to your Minecraft versions folder, the folder should contain a .jar and a .json file.
Open your Minecraft launcher and make a new profile. Set the version as "release Obsidian".
Enjoy playing
Related Articles