Rei's Minimap Mod is a very handy tool for Minecraft. The best feature is in my opinion the Minimap itself. Among this feature, it also comes with other cool features, like setting spawn/waypoints and cave mapping. The menu lets you do a ton of customisations. You can set render types, set death point so you can see where you died, surface options and a lot more.
Features of Rei´s Minimap Mod:
Minimap

ZanMinimap frame appearance
Waypoints
Ingame keyconfig
Fast processing
Entities radar
Cave mapping
Fast processing
Beautiful map rendering:

Expression of dynamically changing lighting
Expression of semitransparent blocks
Automatically generate the block colors from your texturepack
Bump-map expression of height
Biome color
Screenshot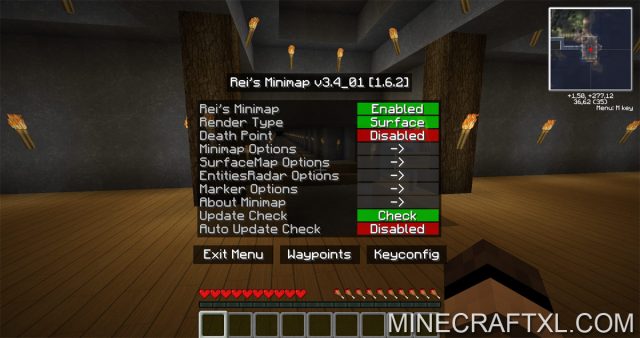 How to install Rei's Minimap Mod (with MCPatcher)
You need the MCPatcher
After you have installed MCPatcher, go to your %appdata%/.minecraft folder.
C:\Users\User\AppData\Roaming\.minecraft\mods\1.6.2
Download the mod, and put the zip file in the mods folder (in the folder with the correct version of the game, eg. 1.6.2).
Open MCPatcher
Click the +
Choose the mod
Click patch
Play !
After you installed the mod, a radar/minimap should be displayed in the upper right corner of the screen. To bring up the menu press M.
In our opinion Rei's Minimap is currently the best Minimap available for Minecraft. If you know any better, please let us know in the comments.
Setting waypoints is a very handy features which comes with this mod. It does what it says – lets you set a waypoint. This way you can put a waypoint at your home, go out and explore the big world of Minecraft, and then go back when you are done without getting lost.
Watch this review of the Minimap mod
Related Articles