The Star Trek Voyager map is a lovingly created map for all the Star Trek fans out there.
In it you will find the Voyager spaceship, from the TV-series Star Trek Voyager, which has been handcrafted in very fine detail.
It is made to be used with the Misa Realistic Textures pack [64×64], so you should go and download that first to get the full experience of this ship.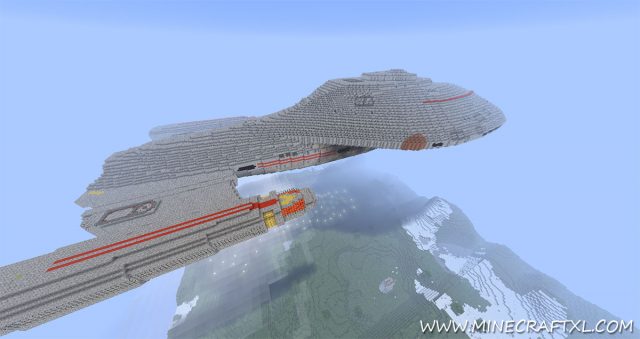 The ship contains (working) transporters, fifteen decks with many different rooms (although, this is a work in progress, so some wont be furnished or finished), including the medbay, the bridge, engineering, reactor rooms, hangar bays, many crew quarters, armory and much more.
It is a very impressive piece of work, and a lot of it is also functioning, making it that much better. It's a great model with functionality, although it can't fly. Yet.
You'll find plenty of redstone-powered machinery inside the ship, it also has several working mine cart tracks, hangar doors, airlocks and there's also a farm to sustain the crew on those long voyages.
Here are some images showing more of the inside of the ship, which is very impressive and easy to get lost in:
Do keep in mind that it is a work in progress though, so it wont all be there, and not everything is completely done, but even so, it is still a very cool map to explore, and if you like Star Trek just a little bit, I'm sure you will find it very cool and impressive.
If you don't know how to install Minecraft maps, check this out.
How to install the Star Trek Voyager Map:
Download the map.
Go to your %appdata%/.minecraft folder.
Open the "saves" folder.
Unzip the map you downloaded and put it in the saves folder.
Thats it – enjoy your new Voyager map!
Related Articles