Defscape is another resource pack in the long line of resource packs that tries to redo the default Minecraft look, but this one is probably one of the best.
Looking very similar to the popular Faithful Resource Pack, Defscape also has a very smooth and high resolution look, that still looks like the default pack.
Note: MCPatcher or OptiFine is heavily recommended for this pack, otherwise you'll probably run into an issue or two. Personally I prefer MCPatcher unless otherwise specified.
Everything has a new look though, it isn't just a rehash of the default textures, although that may not be readily apparent.
The mobs look great, especially the Creepers, as you can see the TNT hidden inside on some of them. The zombies have been given a style upgrade as well, so now you'll meet some quite fancy zombies in tuxedos, if you're "lucky".
Blocks look quite good, they all have a really good connected smooth look, and I especially like the new Nether, as it doesn't feel as harsh on the eyes as the default pack might sometimes make it feel, it also looks a bit brighter.
All in all, this pack is pretty damn great if you want to retain the default look and feel, but might also feel that the textures are too gritty or pixelated, and sometimes harsh on the eyes. Or maybe you just like the look, I know I do. Smooth, high-res, and easy on the eyes, there's not much not to like. If anything at all.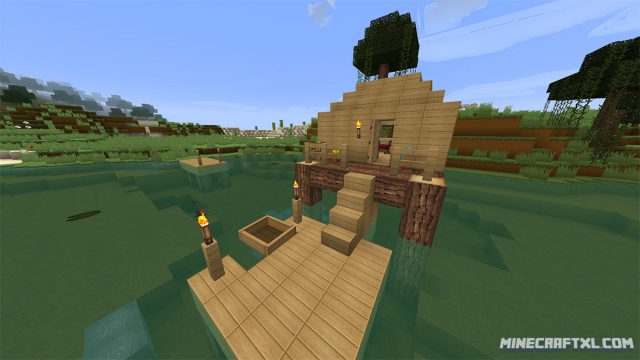 Currently, only one resolution is available, 64×64, others are being worked on though, and I find that 64×64 is a pretty great compromise between looks and speed, so no big issue there unless you're playing on a bucket.
Here is a comparison between the Defscape Resource Pack and the default Resource Pack:
How to install the Defscape Resource Pack for Minecraft:
Download the Resource Pack.
Start Minecraft.
Press Esc and go to options.
Click on "Resource Packs".
Click on "Open resource pack folder".
Put the .zip file that you downloaded into the resource pack folder.
The resource pack should now appear in Minecraft, now choose the resource pack and click "Done".
Congratulations, Defscape should now be installed, so have fun and enjoy!
Here's a look at the pack in action, check it out:
Related Articles