Are you tired of wandering the world of Minecraft in relative peace and quiet? Does the sky seem boring, and do you wish you'd often had to look up at it and make sure somethings not about to remove you from the face of the earth? Are you a really big fan of meteors?
Then you're in luck! The Falling Meteors Mod adds just that to Minecraft: Falling Meteors!  No longer can you walk around and not worry about getting hit in the head with a giant piece of space rock, no, for now you might get a giant meteor in your face!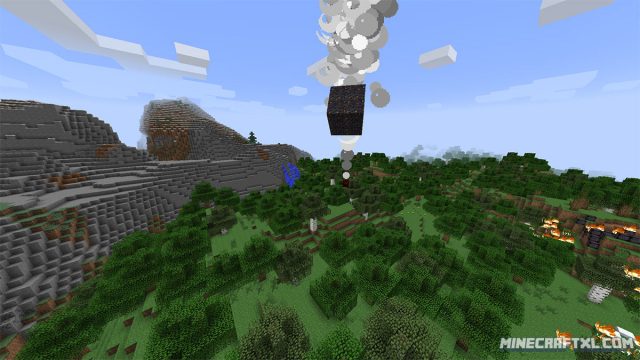 They're not all bad though, as the meteors adds new stuff to the game as well, other than meteors, such as new materials used to craft new powerful items, new effects (magnetization among those), and new variants of mobs.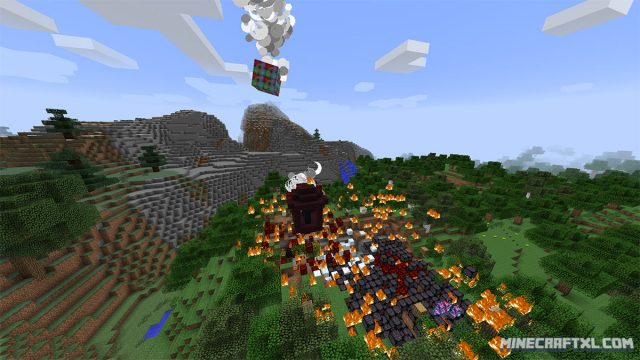 Here's a list of the features added by this mod:
Meteors! Meteors will now fall to the ground and explode around the world, forming craters that house various space minerals as they do!
Armor Sets that give you new different abilities such as: Walking on water, magnetization, fire immunity etc.
Tools that give new different properties: Slowing enemies, magnetization, faster underwater mining, burning enemies etc.
Minerals found in crashed meteors will cool, giving you a smaller mineral yield, so you gotta mine them fast!
You creations and builds CAN be safe, through the use of Meteor Shields, so you don't have to worry about your beautiful house getting smashed to the ground.
Many different types of Meteors, small, large, ice, rock, and more!
Detectors can detect where meteors are gonna fall.
Timers can help determine when a meteor is going to crash.
Use the Freezer to freeze blocks as well as craft ice, packed ice, and more.
Use Meteor Summoners to summon meteors on your enemies! Or friends, equally as fun!
If you're good enough, and lucky enough, you can even obtain an adorable Comet Kitty as a pet!
Use the many configuration options to configure the mod experience to your liking!
Fully compatible with SMP.
Multilingual!
All in all, the Falling Meteor is a pretty fun and good mod that adds a whole lot more fun, and danger, as well as items and stuff, to the game!
How to install the Falling Meteors Mod for Minecraft:
Download the mod.
If you don't have Forge, then download and install Minecraft Forge.
Open your Minecraft folder (in Windows: Start -> Run -> "%appdata%\.minecraft").
Copy the mod .jar, file(s) you downloaded to the "mods" folder found inside the .minecraft folder.
Done! You'd better strap on a protective helmet, because rocks are now gonna fall from the skies!
Here's a video showing off how you can have some fun with the mob, by leveling a huge city:
Related Articles