Rubix is a hacked client (Minecraft hack) for Minecraft version 1.6.2. It is very easy to use, when you start a game, the menu is already open and the menu shows which hotkeys to use.
This cheat works in multiplayer on servers. Be careful, it can get you banned.
Use at own risk!
The author says:
This client I made for simplicity. I saw a request a while ago about a simple client that was user friendly and was very easy to use. The client has a gui with keybind toggles and has pages showing all the toggles and the last page has a info thing so you know your coordinates and stuff like that.  Also the reason for making a new thread is cause I couldn't edit the old post to update the client. -osum54
Features / keybinds:
Up Arrow = Open/Close Keybind List
RCTRL = Clickable GUI
LCTRL = Zoom
F = Fly
X = X-ray
B = FullBright
G = Speed
K = KillAura
M = MobAura
L = AnimalAura
Y = Tracer
H = Nuker
N = NoFall
Z = Sneak
C = Climb
J = SpeedMine
P = Step
O = NoRender
U = NoWeather
R = Text Radar
V = Chest ESP
= = Auto Swastica (buggy)
– = Freecam
. = Aim Bot
; = Instant
, = FastPlace
You can change key bindings in the menu.
Screenshots of Rubix Minecraft hack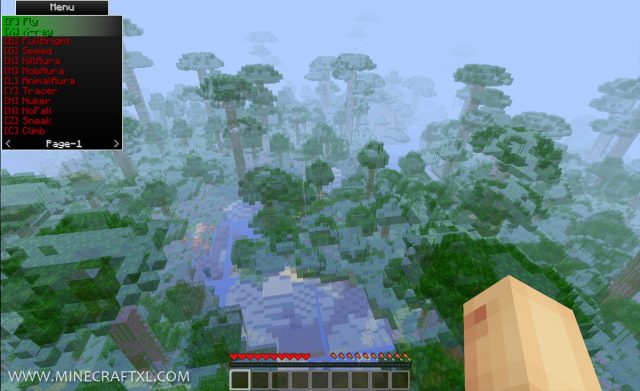 How to install Rubix
Download the file and extract it (you can use 7-Zip or WinRar).
Open your Minecraft folder.
Go to your versions folder.
Copy the Rubix folder to your Minecraft versions folder, the folder should contain a .jar and a .json file.
Open your Minecraft launcher and make a new profile. Set the version as "release Rubix".
Enjoy playing
Related Articles