The Camping Mod for Minecraft adds camping to the game, through craft-able campfires, tents, outfits and more.
The aim of this mod was to give players another more ways of surviving the night without having to dig a hole and spend it in there.
So this mod adds camping, which means that you can craft a tent and instead of digging a cold and wet hole, you get to spend the night in a nice and comfy tent, if you are too far away from your base to make it back in time.
It was also created to increase the immersion in the game, allowing you to go on cozy camping trips if that is what you want, and it also adds marshmallows that can be cooked in the new camp-fires, adding to the authenticity of the mod.
The mod adds tents, bedrolls, various kinds of camp-fires, marshmallows (by themselves or on a stick), a camping tool, camping bag that enables you to carry more with you on your adventures (works similarly to the backpacks from the Backpack Mod) and a guide to help you craft all these new items.
The guide should automatically spawn in your inventory after you have installed the mod.
Here is an screenshot showing the items added by this mod: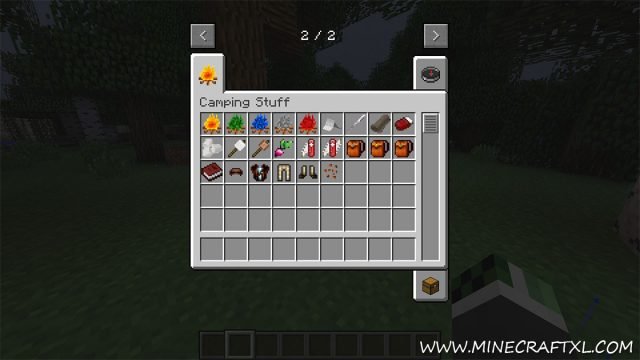 And here are some more of the quick camp I set up on the fly: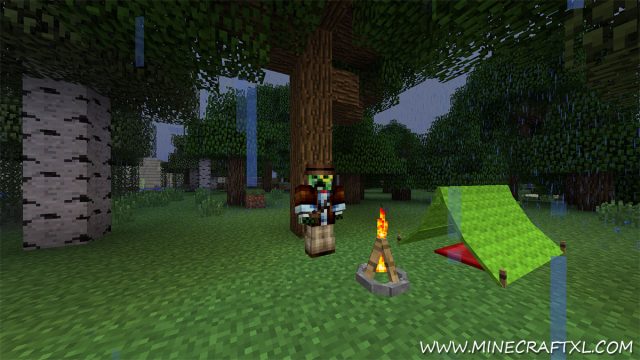 It is a smaller mod, but cool and useful nonetheless, as it works like a portable base that enables you to quickly seek shelter from the weather and the night, saving you the time it takes to build a temporary base, and this is also much cooler and more immersive experience.
Important: this mod requires Minecraft Forge.
How to install The Camping Mod for Minecraft:
Download the mod from below
If you don't have Forge, then download and install Forge for Minecraft (remember to select the "Forge" profile in the Minecraft launcher)
Open your minecraft.jar folder (in Windows it's in "%appdata%\.minecraft\bin\", if you use the vanilla launcher)
Copy the mod from wherever you downloaded them from to the "mod" folder found in your ".minecraft" folder
Enjoy your new ability to camp whenever and anywhere you want!
Related Articles