The Furniture Mod for Minecraft adds a whole lot of furniture to the game, so you no longer have to improvise when creating tables, chairs, benches, sofas and so on, simply download and install this mod, and you will have access to over 30 craft-able pieces of furniture.
Important: this mod requires Minecraft Forge.
This will allow you to better decorate your houses, castles, towers, giant trees or whatever you call home, with plenty of furniture for all your rooms, such as the livingroom, kitchen, bedroom and so on.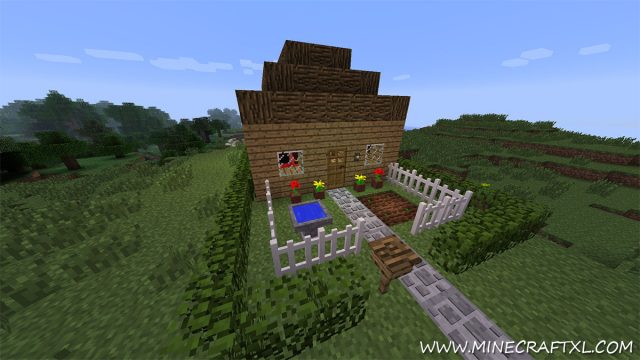 List of the furniture added by this mod:
Bedside Cabinet
Wooden Table
Wooden Chair
Cabinet
Wooden Coffee Table
Fridge
Freezer
Couches (White, Green, Brown, Red and Black)
Blinds
Curtains
Lamp
Stone Chair
Stone Table
Stone Coffee Table
Oven
Oven Range Hood
Hedge (Oak, Pine, Birch and Jungle)
Bird Bath
Stone Path
Picket Fence
Water Tap
Mail Box (includes Envelope and Package)
TV
Computer
Printer (Includes Ink Cartridge)
Fire Alarm
Stereo
Electric Fence
Ceiling Light
The newer versions also adds kitchen gear such as fridges and more, as well as stuff for the bathroom such as toilets, showers, bathtubs, sinks, and so on.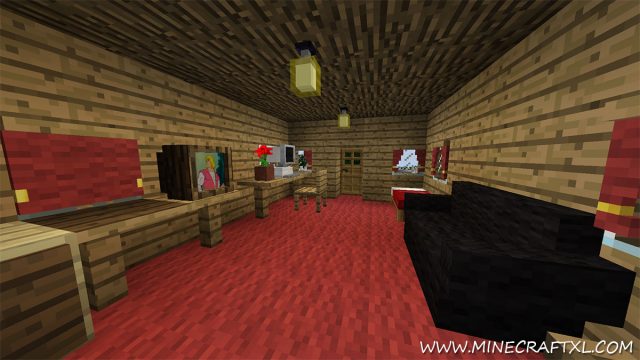 There is something for every room in the house, enabling you to create a much more detailed home, or maybe even recreate your own home in Minecraft.
Here is an image showing some of the crafting recipes: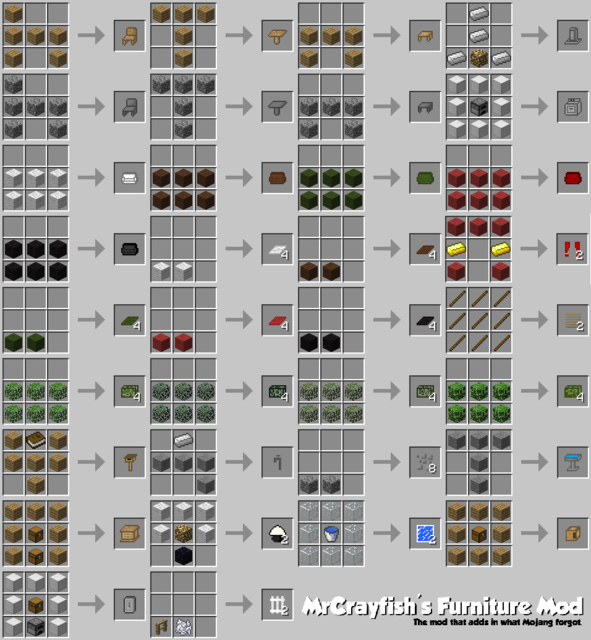 The rest of the recipes can be found by visiting the mod creators wiki, here.
For more Minecraft Recipes, click here.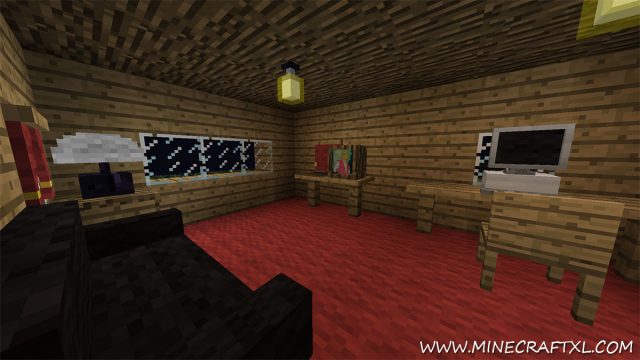 The mod now has new kitchen and bathroom stuff, so now you can also make rooms that a little like this:
The Furniture Mod is perfect if you want some more detail in your homes, builds, or maybe even adventure maps. With this, you no longer have to try and make things that sorta looks like a chair, or bench, or whatever, using default Minecraft materials, here you can simply craft them and place them, and best of all, it all looks like Minecraft. Every model in this mod might as well have come from Mojang itself, as it keeps the style.
A great mod with many uses, you should definitively check it out!
How to install the Furniture Mod for Minecraft:
Download the mod that fits with your version of Minecraft
If you don't have Forge, then download and install Forge for Minecraft (remember to select the "Forge" profile in the Minecraft launcher)
Open your minecraft.jar folder (in Windows it's in "%appdata%\.minecraft\bin\", if you use the vanilla launcher)
Copy the mod from wherever you downloaded it from to the "mod" folder found in your ".minecraft" folder
Enjoy your new furniture, time to play interior decorator!
Related Articles