Originally just made for a server, a pumpkin-themed server, the author of this resource pack decided that he wanted to share it with the world, and the result is this, the Pumpkin Patch Resource Pack, usable by everyone.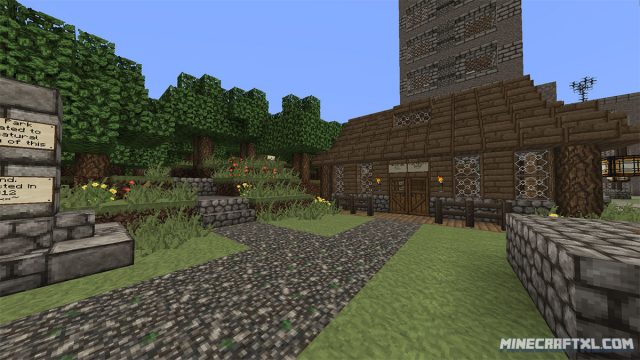 It has since evolved to become a very popular resource pack, and with good reason, it looks great as well as runs great, so good in all aspects.
The theme of the pack is a more medieval/RPG style, being a tad bit darker and grittier than vanilla Minecraft, while still being pleasant to look at, and bright enough to still be able to see what you are doing.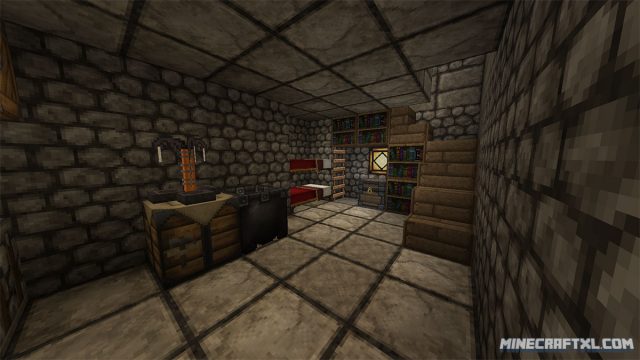 Most will agree it is a step up from the default graphics, albeit in a slightly different style.
However, it is very similar to other resource packs such as John Smith Legacy and DokuCraft, who are the stable of the "RPG/Medieval"-style of resource packs, with DokuCraft being the pack that probably started it all. This does stand out though, being pumpkin-themed, which means that things that normally doesn't have anything to do with pumpkins now does.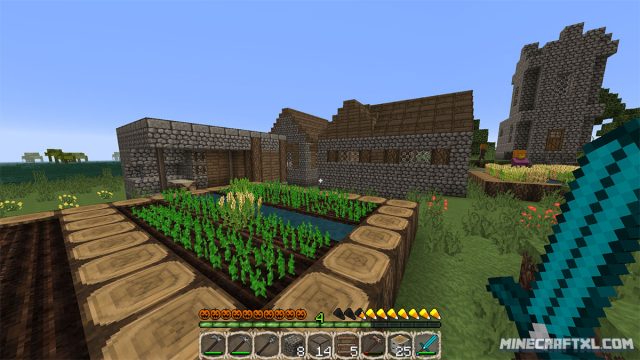 Here you can see the new UI, also with pumpkin-themed elements.
This results in some items, blocks, and stuff, such as villager heads, being more pumpkin themed now, where they had nothing pumpkin about them before. This is due to the server this pack was originally meant for, the Pumpkin Patch Server, being pumpkin-themed.
The pack is best used in conjunction with older, medieval and/or RPG-themed builds, as there are better alternatives for other builds as modern and sci-fi. Although it is of course up to yourself, I just don't think it looks that great.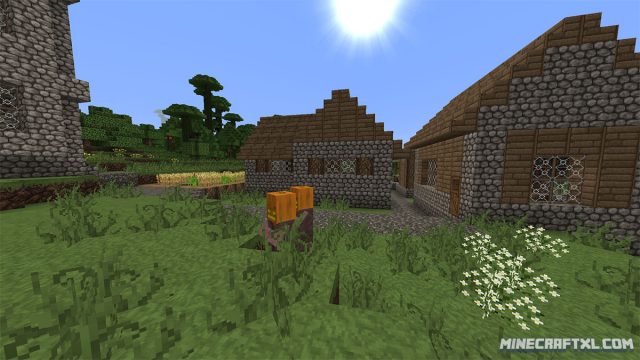 The new villagers, with their new pumpkin heads.
MCPatcher or OptiFine is heavily recommended when using this pack, unless you want to miss out on cool features and extra textures, install one of those programs (if you haven't already of course). The author doesn't say they're required, just very, very, very recommended.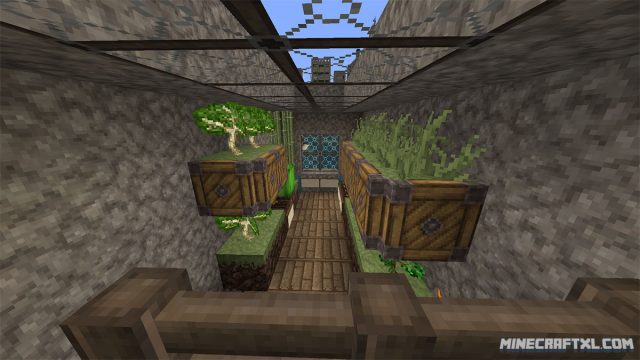 The pack is only available in the 32×32 resolution (as many other packs in this style usually is), which is a decent resolution in regards to looks and performance, and it helps retain this type of resource packs certain charm.
Here is a comparison shot between Pumpkin Patch and vanilla Minecraft:
How to install the Pumpkin Patch Resource Pack for Minecraft:
Download the Resource Pack.
Start Minecraft.
Press Esc and go to options.
Click on "Resource Packs".
Click on "Open resource pack folder".
Put the .zip file that you downloaded into the resource pack folder.
The resource pack should now appear in Minecraft, now choose the resource pack and click "Done".
Pumpkin Patch should now be install and in use, enjoy your new look at Minecraft!
Here is a video review of the resource pack, check it out for a look at Pumpkin Patch in action:

Related Articles