Michelangelo Minecraft skin
42.037 views
8.252 downloads
Category: TV

Creator: Kefka
One of the four protagonists of the Teenage Mutant Ninja Turtles comics, TV shows and the new movie. Michelangelo was initially depicted as fun, loving, carefree - and while not as aggressive as Raphael - always up for a fight. He has a much more serious nature in the comic book than in the TV shows, which have labeled his character a permanent "dude" talking preteen.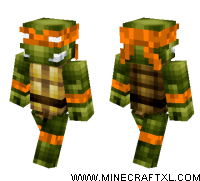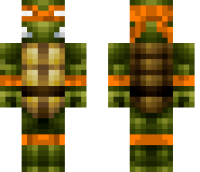 How to install Michelangelo skin
Download the skin.

Go to Minecraft.net and log in.

On the top menu, click on "Profile" (or click here).

Upload your skin under "Change how you look in Minecraft".

Go play Minecraft with your new skin.
Download
Newest skins