The Hulk Minecraft skin
14.277 views
4.652 downloads
Category: Movies

Creator: halucid
We present to you from the famous Marvel comics, The incredible Hulk ! A big green angry man.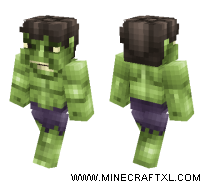 How to install The Hulk skin
Download the skin.

Go to Minecraft.net and log in.

On the top menu, click on "Profile" (or click here).

Upload your skin under "Change how you look in Minecraft".

Go play Minecraft with your new skin.
Download
Newest skins